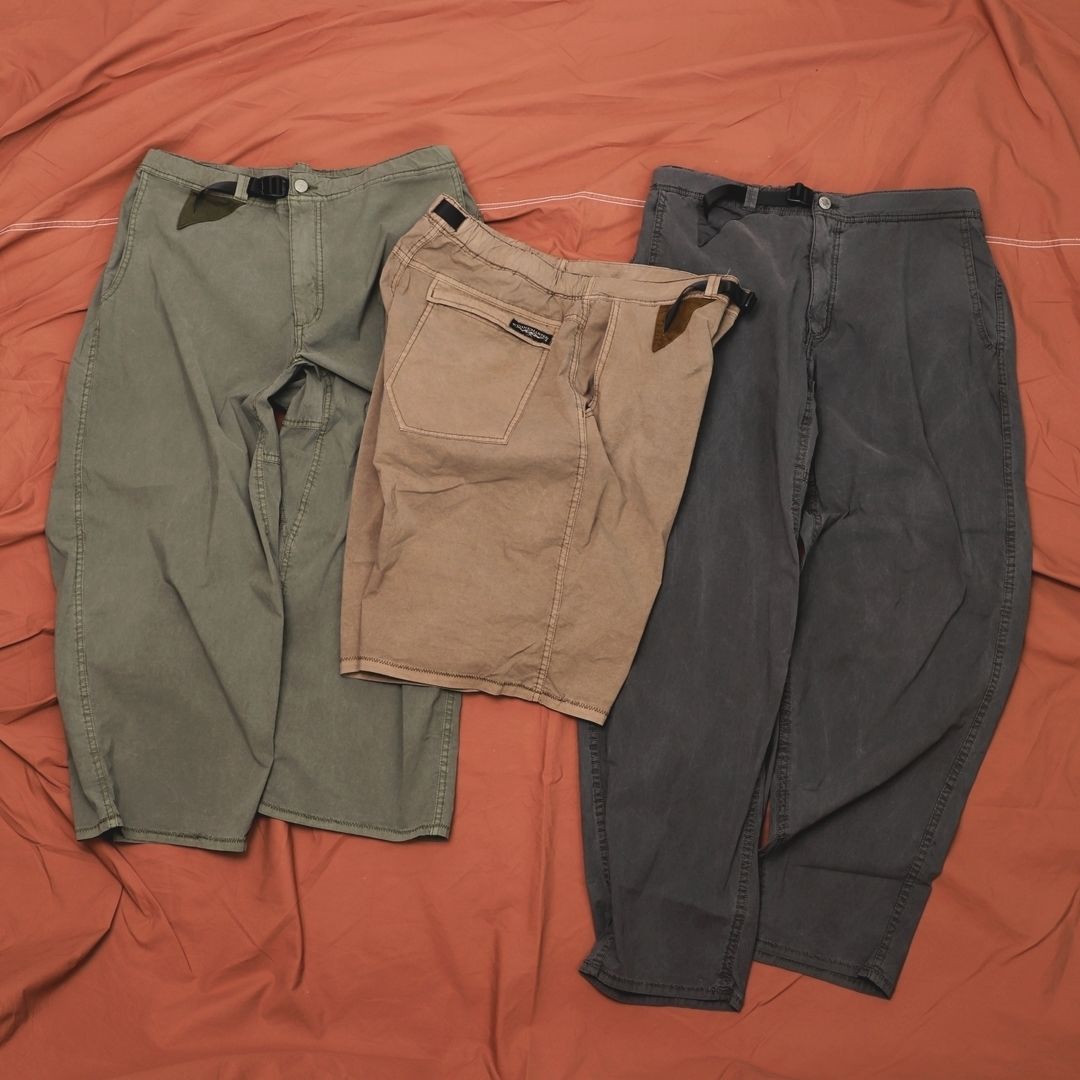 【STONEMASTER】ハイブリットシリーズ 再入荷のお知らせ
現代における「クライミングパンツ」の定義を作った人物、マイク・グラハムが手掛けるパンツブランド《ストーンマスター》。
この春リリースした人気モデル《SM HYBRID シリーズ》の3型が、7月再入荷することが決定いたしました。
Stonemaster, the pants brand created by Mike Graham, the man who created the modern definition of "climbing pants". The popular model "SM HYBRID Series" released this spring will be back in stock in July.
ファブリックはコットン×ナイロンの機能素材。特殊な加工技術で染められた素材は表情豊か。この染色はとても加減が難しい。海外では手に負えないので、すべて国内加工。生地は薄くて強く、速乾性にもすぐれた素材。
The fabric is a functional mix of cotton and nylon. The fabric is thin, strong, and quick-drying.
The material is dyed with a special processing technique and has a rich expression. This dyeing process is very difficult to control, so all the dyeing is done in Japan.
特徴は、ウエストベルトループがポケットに収納可能。ベルト先端にはDリングが付属しており、キーホルダーとしても利用できます。三角形の同色スウェードの補強も良い感じです。
Features include waist belt loops that can be stored in pockets. It also comes with a D-ring at the end of the belt, which can be used as a key holder. The triangular reinforcement of the same color suede also adds to the atmosphere.
裾にはギザギザステッチ。こういう手間のかかるステッチをやってくれる工場というのも今は少なくなりました。洗う度、このステッチに当りや色の濃淡が生まれ、雰囲気が増していきます。
The hem is sewn with jagged stitches. Nowadays, there are very few factories that can do this kind of time-consuming stitching. Every time the garment is washed, wrinkles and shades of color are created, and the atmosphere is enhanced.
また、コインポケットやリフレクター糸が混ざったコンチョ型のジッパープル。そして、このジッパー部に詰め込めば、パッカブル収納可能。
It also has a coin pocket and a concho-shaped zipper pull with reflector thread mixed in. And if you stuff it in this zipper pocket, you can pack it for packable storage.
シンプルにみえるパンツですが、多くの手間と時間が掛かっています。特殊染料で、ひとつとして同じパンツはありません。色の落ち方も人それぞれ。
ストーンマスターのハイブリッドパンツは、テックウェアに、人の手をたっぷり加えた、唯一無二のパンツです。
These pants may look very simple, but a lot of time and effort has gone into making them. With special dyes, no two pairs of pants are the same. The way the color fades is also different for each person.
Stonemaster's hybrid pants are the one and only pants made by adding a lot of human touch to tech wear.